It's that wonderful time of year when moms everywhere take to the Gram to share photos of their littles playing in a patch of pumpkins. I mean, are you even considered a mom if you don't post your kids in a pumpkin patch?! And there's good reason why these types of photos are so popular…because kids and pumpkins together are ADORABLE!!!
Now listen, pumpkin patch family outings were happening ages before pop-up shops, posing in front of brightly colored walls, Kim Kardashian, VSCO girls or any other trends emerged. One might even argue pumpkin patches are, in fact, the OG of the perfect photo op backdrop!
And much like the annual first day of school pics and family holiday cards, pumpkin patch pictures provide that staple setting where you look back, year after year, and see how much your babies have grown! Below is an evolution of my daughter at 8 months, 3, 5 & 7 years old… "Is someone chopping onions on here?! How is my baby so grown up?"
For my crew, we are lucky to live close to this darling family-owned farm that goes all out in October, providing the backdrop for some of my most favorite family photos… including one of the best pregnancy photos I ever took.
So I beg the question… who needs expensive pop-up shops when you can have pumpkin patches, Christmas tree farms and apple orchards??? Someday the pop-up shops, VSCO girls & posing in front of brightly colored walls trends will fade out. But one thing is for certain… Pumpkin patch pictures are here to stay!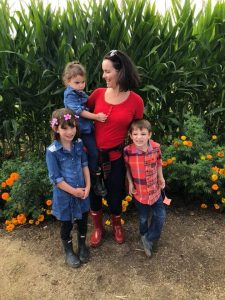 And apparently the Kardashians…they're not going anywhere either.
Lucy Riles, Life of Mom Founder