PODCAST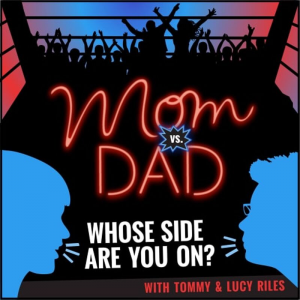 SUBSCRIBE and DOWNLOAD the newest parenting podcast, Mom vs Dad! Life of Dad and Life of Mom have joined forces for this hilariously relatebale show. Listen as Lucy and Tommy take your typical, everyday disagreements and put them to the test. Help them decide!
"Should the person who was wearing the pants empty the pockets, or should the person doing laundry be the last line of defense to make sure that nothing in the pockets gets washed?"
"Laying laundry ON TOP of the hamper when he can't decide whether it needs to be washed or not."
"Is it fair for Lucy to compare all of Tommy's injuries to pregnancy for the rest of their lives? From bee stings, to stubbed toes, to bruised ribs, Tommy argues that he deserves some sympathy."
"Listeners Brian and Amy argue about whether or not they should get a dog."
"In the first ever episode of the Mom vs. Dad show, Tommy battles Lucy on whether she should be able to throw away his 20 year old cargo pants."
Since Tommy and Lucy can't come to an agreement, it's up to you all, the audience to determine the winner of this battle. Visit the @momvsdadshow Instagram page to let your vote be heard!
You can also find them LIVE on Life of Mom and Life of Dad Facebook page.